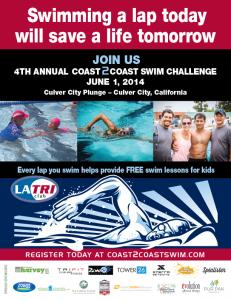 LA Tri Club Members and Friends:
You may LOVE doing it. You may HATE doing it.
But the ability to SWIM is a precious gift that someone once shared with you.
Now you can share this gift with disadvantaged and at-risk kids, for whom swimming skills can make a better and much safer life.
Last year, the Coast-to-Coast Swim Challenge raised enough money to provide 300 under-served kids in LA with FREE swim lessons. Members of LA TRI CLUB were there in strength as volunteers, organizers, and fund-raising swimmers. And this year on June 1st in Culver City we are determined to blow last year's results out of the water! (We're sorry…that water pun was just sitting there begging for it.)
This year, 100% of the funds raised by C2C swimmers will again provide FREE lessons to both disadvantaged kids and recipients from One With The Water - an organization that teaches disabled and/or critically ill children and adults how to swim.
It's an amazing event - so amazing that the World Triathlon Corporation and Ironman Foundation have joined the C2C Swim Challenge cause this year. Notable coaches will also be on the pool deck to provide free pointers, and sponsors will be on-site with complimentary food and beverages.
No matter whether you love swimming laps, hate swimming laps, or just want to see a lot of gorgeous Los Angeles athletes in Speedos, your personal contribution is both valued and needed! 
Please visit coast2coastswim.com to find out more and register to participate.