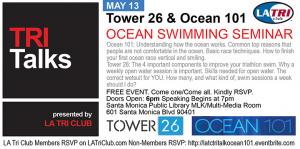 Tri Talks presented by LA TRI CLUB is pleased to host OCEAN SWIMMING with experts: Tower 26, Gerry  Rodrigues  and our own Ocean 101's, Tim Bomba
This special FREE seminar will include, but is not limited to: 
Ocean 101: Understanding how the ocean works. Three of the more common reasons that people are not comfortable in the ocean. Basic race techniques. How to finish your first ocean race vertical and smiling.
Tower 26: The 4 important components to improve your triathlon swim. Why a weekly open water session is important. Skills needed for open water. The correct wetsuit for YOU. How many, and what kind of, swim sessions a week should I do?
LA Tri Club Members: Please RSVP on our website at latriclub.com
Non-Members: Please RSVP here.