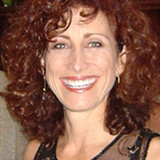 Deb Carabet
Managing Director
This email address is being protected from spambots. You need JavaScript enabled to view it.
Deb had moved back to LA after many years in NYC and missed the camaraderie she had with her running club back in New York. She wanted to still be active, however her body told her marathon days were over. Still she knew there had to be more…and triathlons came to mind!
Deb joined LA Tri Club in August 2012 by first attending an LATC annual dinner, where she won a wetsuit (one of the great perks of being a member!) and was excited to see what a New Member Night was like. After meeting LA Tri Club Head Coach, Ian Murray (now her personal coach), Deb was hooked, and she immediately signed up for her first Sprint Triathlon that December.
Deb ​became Newbie of the Year all, after just a few months with the club and chose to jump in fully committed to the club …and that attitude hasn't changed!
When her training was curtailed, Deb became cheerleader, Pit Crew member, volunteer eventually took on her current role as LATC's Membership and Newbie Manager. ​
Over the years Deb has met great people who have become great friends, and she has found the camaraderie she was looking for. In her other life, Deb is involved in various charities in the community; plus she skis, sails, and loves hanging with her nieces and nephews…who she spoils rotten. (Because that's her REAL job!)