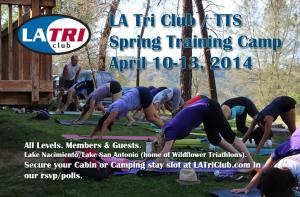 It's the world-famous LA Tri Club/TTS Coaching SPRING TRAINING CAMP! Thursday April 10th, check-in that evening... and camp ends on Sunday, April 13th.
Have some big race plans in 2014? Doing your first Ironman? 
Or, do you just want to focus on your training for a few days, with experts and triathletes surrounding you? 
Then this Camp is for you!
From Thursday, April 10th at 6:00 pm, through Sunday, April 13th at 11:00 am, the 2014 camp will be held at Lake San Antonio Resort/Lake Nacimiento -- outside Paso Robles - homes to WILDFLOWER triathlons.
SPACE IS LIMITED
ALL LEVELS WELCOME
You'll check in at 6:00 pm or after (per your schedule, YES, it's okay to arrive Friday Morning)... and, you'll check out after morning workout and a meal on Sunday. You should be on your way home by lunchtime (after you've eaten, of course!).
Members their Guests are welcome to attend. 
Purchase your Slot under our MEMBERS tab, in our RSVP/Polls.
CABIN STAY Slot: $395
CAMPING STAY Slot: $135 
top tier COACHING by Ian Murray and Jamie Silber 
workout fuel 
sports or restorative massage session 
training course support (sag) 
Sponsor goodies 
Daily Led- restorative stretch & yoga session
Daily training suggested schedule for swim / bike / run by TTS Coaching 
Group gatherings for lunch and dinner 
Wildflower BEST PERFORMANCE & Survival Clinic 
S.W.A.G. (Stuff We All Get) 
car passes  
More!
MEALS 
Saturday Night Group Dinner is included with the slot purchase. 
Further Details, Itinerary and Directions will go out to participants about 10-days prior to Camp.