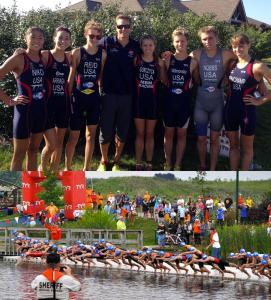 The first weekend in August continues to reveal the future of our sport. The USAT Junior Elite National Championships took place in Cincinnati, Ohio on August 3 & 4 of 2013 and the LA Tri Club-TTS team sent our biggest squad yet with 15 athletes representing. The Junior Elite events are draft legal - this is the format of triathlon in the Olympics and that's the goal for many present at this event. 
Junior Elite Female. The day began with a steady but light rain and at 8am when 50 of the nations best 16-19 year old athletes dove off the floating dock and into the lake for the 750m swim. Hannah Rae Finchamp was out of the water 3rd, thirty seconds behind Tamara Gorman and Devon Dabney and 22 seconds up on a group of 10 athletes including great runners like Katie Gorczyca and Malia Ellington. This is a familiar situation with Hannah Rae at several Junior Elite Cups this year and with the wet roads, the mildly technical bike course and her exceptional cycling skills - Hannah Rae executed the race plan of going alone. At the end of the first 5k lap, she had built 5 seconds onto her lead over the chase pack, at the end of lap 2 she was up another 3 seconds. But as the roads dried out and the chase pack found inspiration they shrunk that gap and collected Hannah Rae at the start of the fourth and final lap. The 15k alone in the wind had taken its toll and Hannah Rae ran a 19:39 5k off the bike for 9th place. Hannah Rae was crowned the winner of the Junior Elite Cup series and took solace atop that podium at this, the final event. 
Junior Elite Male. The rain stopped, the roads dried up and the maximum field of seventy-five 16-19 year old males took to the pontoon for the start.  A group of 16 exited the water in roughly 9 minutes and 20 seconds to form the first pack and included in there were LA Tri Club - TTS athletes Dillon Nobbs, Ryan Reede and Alec Wilimovsky. Joey Tamusaitis and our newest member, Erik Armes were a minute back in chase packs. Joey who has been nursing an injury still kept it under 20 min for his 5k and finished proud and Erik who is just back in the states after 3 years on base in Okinawa missed serving his penalty on the run course and took a DNF on the day. Not a let down by any means, Erik was there for experience and got plenty. We'll see great things over then 3 years from both these 16 year olds. Dillon, Ryan and Alec rode hard within the lead pack in an attempt to keep at bay good runners like Tony Morales who chased at 30 seconds behind in pack two. Off the bike Ryan ran a nice 17:18 for 18th place and Alec held on for 25th. Dillon ran the first lap shoulder to shoulder with Tony Smoragiewicz, Brent Demarest and Hunter Honeycutt (who would finish one, two, three respectively). Dillon, who last year was 8th at this event, finished a satisfying 4th with a 15:51 5k. 
Youth Elite Female. There were sixty eight in the 13-15 year old Youth Elite Female division. The distances are: 375m swim, 10k bike and 2.5k run and the athletes demonstrate the capability of swimming at 1:20pace in open water, riding at 21mph average and running 6 min pace.  LA Tri Club - TTS athletes Andrea Arriaga, Mara Muslea and Gabrielle Niko all stepped up with personal bests on the day.
 Youth Elite Male. Racing at the same age and same distance as the Youth Elite Females, the boys dove in off the pontoon in a field of 70 strong. Duncan Reid tore it up with a second pack swim, powerful bike and by running 5:34 pace off the bike for a 13th place finish. Matthew Paragas has a typically brilliant swim crashed on the bike. He re-mounted the bike with road rash in many places and raced on but a head cut and the resulting blood running down his neck and chest gave us all a scare and he wisely pulled off before the bikes conclusion to seek treatment. He received a few stitches in his head and flew home the next day stiff and sore but otherwise okay. 
Mixed Relay. The ITU is pushing the IOC to take additional triathlete events into the Olympic Games. The one being pushed the hardest is the Mixed Relay: two males, two females racing a very short swim/bike/run course before tagging the next teammate to do the same. LA Tri Club - TTS Team #1 went in with strong expectations: Katie Gorczyca (on loan from Sharon Osgood's MBM team) dove off, swam strong, rode hard and ran well to put us into 6th place before the tag to Alec. He closed the gap with a blistering swim and brought us into 5th spot. Hannah Rae took the tag with a 30 second gap to 4th. Out of the water that gap was cut to 15 seconds and by the time Hannah Rae stepped off the bike we were in 3rd. Dillon took the last leg against a strong group of "closers". He was out of the water in 3rd and got help with uber biker Patrick Bieszke (fastest solo split of the race) rode up to Dillon. Dillon missed the dismount line by inches and earned a 10 second penalty. His run put a gap on Patrick, but 10 seconds in the tent let Patrick go by and even Dillon's all out 200m sprint to the finish left Patrick 2 seconds ahead and our team took 4th place. A great race!!! LATC-TTS Team #2 had Jocelyn (on load from a squad in Reno) lead off with an amazing swim and solid bike/run. She tagged Tristan (on loan from a team in Denver after Matthew's crash the day prior left him off the start list. Tristan held as best he could and tagged off to Andrea whose bike is so strong that she passed over a dozen athletes on her way through leg three. Duncan closed with the 5th fastest split out of the Youth Males - riding over 22mph and running 5:39 pace off the bike. That squad finished a deeply respectable 17th. Also in the mix was Gabby who got loaned out to a team from Denver as they need a female to complete their ranks.
Youth. In addition to the draft legal racing there are some crazy fast 7-15 year olds who race a non-draft format for their own championship. Our team took home two podium spots: both Zane Grenoble (13) and Alex Mainvielle (10) stepped up with great races. Frankie Reid also had a great race finishing 8th (11).