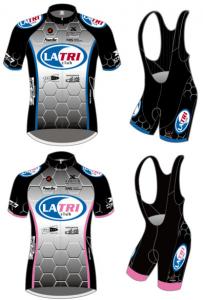 Pactimo
and LA Tri Club team up and introduce new "hive" designs for 2014. 
The 2013 current club-kit design will continue to be offered in our online store with Pactimo throughout 2014. We are now additionally offering the new "hive" design in all items and in two color combinations -- the "club" colors and a pink (replacing red) version. 
Pactimo offers LA Tri Club members anytime/on-demand ordering of the size and style garment they wish, with an 8-week turnaround. The garments are made after the order is placed, so please allow 8-weeks for delivery. 
HOLIDAY ORDERS should be placed by November 19 to ensure delivery. CLICK HERE to shop the Pactimo store. If you have trouble placing an order, please contact our rep: Julie Grove. 
To shop for other LA Tri Club accessories including TIMEX IRONMAN watches, doggie tee shirts, hats & visors -- and more - Visit the LA Tri Club online store HERE.