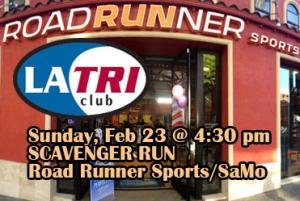 LATC and its new sponsor 
Road Runner Sports
, is hosting the 
BEST FUN RUN OF THE YEAR!
DESCRIPTION: We all meet at Road Runner Sport's new store in Santa Monica. Then you'll be grouped into random teams of 4 and go out for a SCAVENGER RUN!
Teams will receive a sealed envelope containing their first clue. Your team with work in concert to solve, locate and collect items sending you all over the immediate area.
YOU DO NOT NEED TO BE A FAST RUNNER, TEAM WORK AND YOUR SENCE OF ADVENTURE WILL PREVAIL! 

Prizes will be awarded to the top three teams and did I not mention the RAFFEL?!

Everything from a Rudy Project Helmet, RRS Gift Certificates and much much more! 

Friends and Family are welcome! And remember, all LATC'ers can SAVE UP TO 20% while shopping at RRS!

Event Date: 4:30 PM, Sunday, February 23, 2014
Event Cost: Free 
Location: Road Runner Sports 1338 4th Street Santa Monica, CA 90401 90mins of FREE PARKING: Next Door in Lot
---