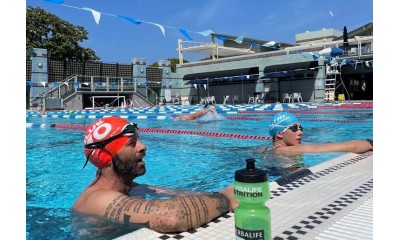 LA Tri Club Masters Swim Program billed monthly*. Sunday's 10:00am and 11:00am @ the Santa Monica Swim Center at SMC. Free Parking!
LATC has 5 Lanes and will be coached by Moses Wolfe-Polgar Head of Performance Testing and Coaching at TriFit LA.

"The LATC Masters swim class is an integral part of my training program. I learn something new every time and get to hone my technique and practice my endurance at the same time. Whether you are a beginner or seasoned swimmer, you will find these sessions both engaging and a lot of fun! Coach Moses gives immediate and highly constructive feedback on technique and makes every training session something to look forward to each week!"
Othmane, LA Tri Club Member
"The Masters Swim class is awesome! I started last May, swimming at about a 2:13/100y average pace and feeling not particularly efficient in the water. Coach Moses noticed the errors in my technique in the first or second class and they have been the things that are my focus in my drills. The workouts that Coach Moses puts together vary from week to week and he explains the different drills and fixes in a way that are easy to understand, even with water in my ears! The speed drill work has really helped and having other, equally competitive swimmers next to me gives me that little extra kick! I'm now swimming pretty consistently at a pace around 1:51/100y with better endurance and ease. I look forward to this class all week!"

-Heidi Eichelbaum, LA Tri Club Member

"I love the Sunday morning Masters Swim Program with Moses and the team! The drills are different every week, so it's always new and never boring, and the hour rockets by. Also, the program's size makes it a great opportunity to get one-on-one expert help with all aspects of my swim technique, and my improvement from week to week has been dramatic. It's a wonderful way to start my Sunday in Santa Monica!"

-Mike Sweeney, LA Tri Club Member