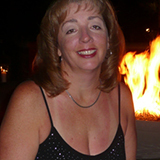 Tina Sathoff
Southbay Training Manager
This email address is being protected from spambots. You need JavaScript enabled to view it.
Tina is one of the newest members of our Leadership Team! She originally joined LATC to meet fellow triathletes, to learn more about the sport, and to give back to the triathlon community by volunteering.
The opportunity to challenge herself is what first attracted Tina to Triathlons. She had taken on the 60 mile Susan J. Koman walk for two years in a row to raise money for breast cancer, which her mother has had twice. The walks were a huge deal, as at that time she was a 200-pound couch potato. While training for her second walk, she noticed flyers about triathlons and decided to give it a try...and so her journey began. Tina says, "everyone thought I was nuts because I didn't know how to swim, didn't own a bike, and didn't run." Luckily, she didn't let such doubts stop her! Her first Triathlon was the 2006 Danskin Women's Sprint Tri, and now she's hooked.
Tina particularly enjoys biking in Palos Verdes, and her favorite races are Barb's 70.3 and Big Kahuna 70.3. Her advice to someone considering triathlons is "Just do it!"
When she's not training or racing, Tina's an Executive Administrator and Nana to six grandkids.