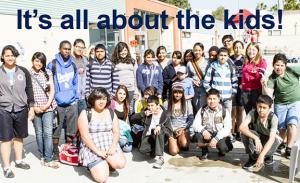 The Coast 2 Coast Swim Challenge (C2C) is the most important swim you'll do all year!  That's because every lap you swim will help raise funds for disadvantaged LA kids to learn how to be safe in the water and discover the fun of swimming.

LA Tri Club established the C2C three years ago to do something about the epidemic of child drownings in our community: more kids under 14 in California die from drowning than any other cause and LA County has the highest rate of near-drowning accidents in the State.  

The C2C concept is simple: meet up with a couple hundred of your buddies; swim as many or as few laps as you like; get a free massage and goodies from sponsors afterwards.  I'm returning for my third year at the C2C and doubt there will be a slower swimmer in the pool. At the C2C this just doesn't matter because everyone who participates is part of a winning campaign that in its first two years has raised over $40,000 and taught 1,450 LA kids how to swim.  I would not miss this event because I know what it does, it HELPS young kids feel safe in the water, something most of us can not imagine. Read more about how you can swim to save lives! See you in the water on the 

2nd of June

.
www.Coast2CoastSwim.com