Masters Swim Day Pass - Join HERE!
LA Tri Club Masters Swim Program pay as you go!
Sunday's 10:00am or 11:00am @ the Santa Monica Swim Center at SMC. Free Parking!
Must be able to Swim 500 meters non-stop to participate in this Masters program. If you're just starting out, we recomend a few private lessons and or join our beginner programs.
---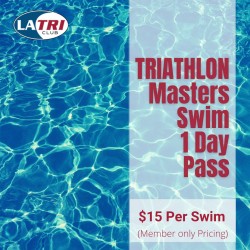 LATC weekly Triathlon Masters Swim Program 1 Day Pass. Sunday's 10:00am or 11:00am