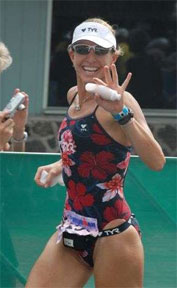 The best athletes embody the virtue of non-competition. Not that they don't love to compete, but they do it in the spirit of play. - Lao-tzu
You race triathlons. You RACE triathlons. Why do you do it? Do you do it for the love of the sport or do you do it because you have something to prove? It is important to thoughtfully examine your motivations when gearing up for your season. What defines success in a race? In any race there are hundreds, if not thousands of other racers on the course, and there is also the clock. Are these the determinants of success? If you do not finish in a certain time or in a certain place, have you failed? If your definition of success or failure depends on external circumstances, then you have already lost. Success is not waiting at an arbitrary line 15 or 30 or 70.3 or 140.6 miles away; success is inside of you and depends entirely on your point of view. By understanding the factors that make every triathlete a champion you can make every race a success. From there, the only journey ahead is the journey from your head to your heart.
When I first got into this sport, I became obsessed with times and stats and placings and rankings very quickly. I competed in my first half Ironman in Oceanside last year and crossed the finish line filled with joy. My attitude changed the second I was told of the tiny margin by which I missed qualifying for the World Championships. My entire outlook on the day was thrashed. What had changed? My definition of success had changed. I could no longer enjoy the spirit of competition or living in the moment; success now hinged on achieving some external, superficial recognition. I stopped living in the moment and thereby turned what had been a success into a failure.
What happens when the race just doesn't go your way? That is where we get to dig deeper and find the best part of ourselves. Wendy Ingraham, Ironman champion, used those experiences in her career to grow as an athlete, and a person. "Several times I have set out in an Ironman and the pace just did not show up at the starting line. Rather than calling it a day or ' saving the race for another day', I like to pay it forward that day. I give my passion to another racer to help make their day." The ability to adapt and find passion in adverse situations is one quality of a truly successful triathlete.
So what qualities must all triathletes possess for success? Organization, patience and consistency are some of the watchwords that come to mind when speaking about a successful triathlete. Above all, though, is passion. An average triathlete with passion for the sport will outperform a gifted one without passion. The successful triathlete is the one whose ordinary moments are filled with passion. Every stroke in the pool or turn of the cranks must be performed with passion. Bring passion into your ordinary moments and maybe they won't seem so ordinary. If finishing a Half Ironman in five hours or less is your goal, you are opening yourself up to the possibility of failure. Is your achievement any less for finishing in 5:01? If you truly find passion in every stroke, in every second on the bike, with every step, you will be a winner without even looking at the clock. It is the person whose thoughts, goals and actions are all squared up that is the winner. By living in the moment throughout the entire race, you will enjoy a series of moments, regardless of the outcome. This is what you trained for; the race is the time to enjoy it.
Ingraham, always known for her smile and boundless enthusiasm on the course, sums it up this way: "By giving your passion and energy to another racer, you are guaranteed to make a new friend. In the end, it will make your day filled with passion."
The finish line is just a piece of tape that will be there waiting for us. Success is not at that finish line; it is inside of each of us.