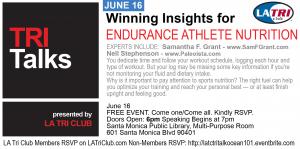 You dedicate time and follow your workout schedule, logging each hour and type of workout. But your log may be missing some key information if you're not monitoring your fluid and dietary intake. Why is it important to pay attention to sports nutrition? The right fuel can help you optimize your training and reach your personal best - or at least finish upright and feeling good.
Please join us for a NUTRITION PANEL featuring experts:
Nell Stephenson - the original Paleoista counseling clients across the globe - www.Paleoista.com
Samantha Grant - Certified Nutritionist/Weight Loss Metabolism Expert - www.SamFGrant.com
Dr. Philip Goglia - Nutritionist and founder of Performance Fitness Concepts - www.pfcnutrition.com
When: Monday, June 16, 2014
Time: 6:30 PM to 8:00 PM (doors open at 6 PM)
Where: Santa Monica Library
601 Santa Monica Blvd.
Santa Monica, CA 90404 
MLK Auditorium
LA Tri Club Members RSVP:
http://www.latriclub.com/members/poll_rsvp_detail?id 05
Non-Members RSVP:
SWIM, BIKE, RUN, PLAY!