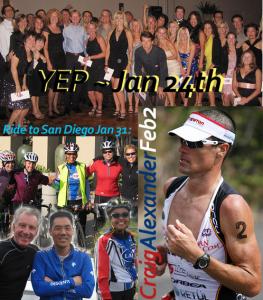 We've got some BIG events on the calendar for the first 5-weeks of the Year... You aren't going to want to miss these, so please save the date and get your tickets soon.
YEP: the Year End Party & Awards Banquet ~ Jan 24th.
For the first time, held in January and at the Marriott Marina del Rey. Doors open at 7:30 pm.
DETAILS ::
---> Plated dinner, don't be late!
---> Member-Awards
---> Payouts for Podium Program
---> Payouts for Race Rewards
---> Member Appreciation certificates presentation
---> Year End Videos/Slideshows (FILM FEST)
---> Post-video viewing, dance-dance-dance / DJ
---> dress = cocktail attire
---> No-host bar
---> Valet parking at the Marriott for our event: $10
---> Under-18 Welcome
Get your tickets in our RSVP/Polls!
4th Annual Ride to San Diego ~ Jan 31st
Sure, it's getting chilly outside... but, keep riding... so, you can join your clubmates for the annual ride to San Diego before the Endurance Sports Awards on Sat., Jan 31.
Options include the whole 90+ miles from the Irvine train station to San Diego... or, you can just ride from our start to past Camp Pendleton for about 45-miles, total, or Solana Beach for 70 miles...and take the train north (back to Irvine) or south (to join us for the ESAs!). Details in our polls. Plan ahead.
2008 Ironman World Champion: Craig Alexander Meeting ~ Feb. 2nd
SCHEDULE >>>>>
6:00 pm Doors Open, Cash-bar open, Expo Begins
6:30 pm Buffet Opens
7:15 pm LATC announcements begin
7:30 pm CRAIG is introduced by BOB BABBITT, who will conduct an interview style Q&A with Craig.
8:30 pm The event will wrap up/pack-up
WHERE >>>>>
The Proud Bird Restaurant (near LAX airport), 11022 Aviation Blvd., Los Angeles, CA 90045
Free Parking.
Get your tickets in our RSVP/Polls!
Have questions about any of these events? Let Liz know.