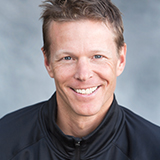 Ian Murray
Head Coach
This email address is being protected from spambots. You need JavaScript enabled to view it.
Ian's coaching career began with alpine skiing where he became a level III instructor with PSIA (Professional Ski Instructors of American) in his hometown of Aspen, CO. In 1997 Ian switched to triathlon as an athlete and in 1999 began coaching in our sport. Since then he's gone on to race nearly 200 triathlons at the local, regional, national and world level on and off road, non-draft and draft legal - and that's in addition to countless other single and multisport events, including adventure racing, road cycling, aquathon and cyclocross.
Ian has been a full time triathlon coach for over 15 years. It's his calling and his career. He has served as the Head Coach for the United States at the pinnacle of our sport: Youth Olympic Games, Nanjing 2014, ITU WTS Madrid, ITU World Cups, Duathlon World Championships, CAMTRI Championships and more. He has obtained numerous certifications: USAT L3, ITU L2, USAC L2, and was honored as the Development Coach of the Year by The US Olympic Committee in 2006. Ian is the head coach of the only Junior High Performance Team in Los Angeles. He also leads Coaching Education for USA Triathlon and teaches bike fitting for two of the world's most prestigious schools: F.I.S.T and at Guru's Fit Academy.
Ian's day-to-day work is his passion: assisting athletes on all levels and in all areas: consultations, program design, private and group swim lessons, bike fit, run gait analysis, and more.
Serving as LA Tri Club head coach since the beginning, Ian is also the Founder of www.TriathlonTrainingSeries.com
Ian resides with his wife, Alexandra, in Pacific Palisades, CA.