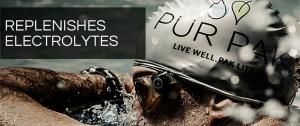 LA Tri Club is pleased to share some exciting news from our sponsor, PÜR PAK
PÜR PAK LAUNCHES ALL–NATURAL ACTIVE LIFESTYLE
SUPPLEMENT IN A VARIETY OF CARBONATED FLAVORS 
Wellness Company Introduces New Line of All-In-One Multivitamin And Mineral Packet                                                                                
LOS ANGELES (June 11, 2013) – Pür Pak, an all-natural revolutionary line of active performance supplements, is pleased to debut its carbonated flavors – Tangy Berry, Citrus and Super Green.  Launching this month, Pür Pak's new refreshing fizzy option ensures complete, on-the-go- nutrition, is easier and tastier than ever before.       
Understanding the difficulty in balancing an active lifestyle and maintaining proper nutrition, one .5 ounce packet of Pür Pak in 8 ounces of water delivers a unique combination of vitamins, minerals, antioxidants, electrolytes and powerful supplements.  Together these ingredients help promote a healthier immune system, replenish electrolytes, enhance physical and mental performance and provide healthy natural energy throughout the day.   The all-natural ingredients combined with sodium bicarbonate give Pür Pak its light, sparkling, effervescent fizz.
Two time Ironman World Champion triathlete Chris "Macca" McCormack says it's the best in supplementation he's come across.  "My partnership with Pür Pak was really as organic as the product itself. For me it is my complete supplementation program in a simple easy to use packet. It ensures that I can continue to train at the highest level and absorb the workloads I am doing. The powdered version ensures that greater quantities are absorbed and the quality of the ingredients selected are pharmaceutical grade so I feel it;s effects immediately, it's quality is far superior to anything I have ever used. Without Pür Pak my preparation is not as good as it can be.  I am enjoying it very much across many spectrums as an athlete"
"As a working Mom, so many things can get in the way of eating properly; with a hectic schedule it was important for me to create a product that will simplify the nutritional needs of people in search of a power packed, tasty, refreshing, natural way to get extra nutritional support throughout the day" said Gina Baski, founder of Pür Pak. "Pür Pak, is the all-in-one solution to help active people complete a balanced approach to healthy living." 
Pür Pak is packaged in .5 oz. packets and retails online for delivery. A one week sample box retails for $18, a 28 day supply box is $49 and a recurring monthly subscription for a 28-day box is $39 per month. For more information and to purchase Pür Pak, please visit www.livepurpak.com.
About Pür Pak
Three years ago TriFit Club and Studios founders Gina & Bernard Baski's and ABC President Stephen McPherson lives intersected.  As one of the busiest execs in Hollywood, Steve was at a cross roads with his health, he came to Gina & Bernard in search of a healthy solution to his high stress lifestyle.  Pür Pak was born out of the Baski's and Stephen's personal knowledge, experience, and frustration with what they found was lacking in the marketplace; a complete, easy to use nutritional solution.  World champion triathlete Chris "Macca" McCormack has recently joined forces as Pür Pak's head brand ambassador.
After three years the team received FDA approval and finalized Pür Pak's ingredients, Pür Pak launched into the market in 2012. All Pür Pak products are: pharmaceutical grade, gluten-free, dairy-free, GMO free, contain only 15 calories per serving and less than 2 grams of sugar, with no artificial colors or sweeteners, ultimately creating a simple and all-natural solution for healthy living.
---