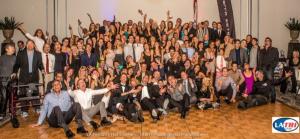 Each year we hold a special YEP (Year End Party & banquet) at which we look back over the last season and celebrate. In January, we celebrated the 2013 at the Luxe Hotel on Sunset Blvd. A few hundred members and guests came together for an evening of dinner, awards and dancing. For those who were not able to join us, here are some of the awards highlights.
Click Here for photos by member-shutterbug GO SHIGGY GO, Shiggy Ichinomiya.
>>> 2013 MEMBER AWARDS <
Mo Geller, Member of the Year
Tina Sathoff, Volunteer of the Year
Nikki Mueller, Tri-Nightmare of the Year
Master Cruz, Newbie of the Year
Wayne Fong, John Boland Spirit Award
>>> 2013 SPEEDSTER AWARDS <
The Speedster awards acknowledges the LA Tri Clubber who routinely finished well ahead of the pack…. You know, the person who is finishing around the same time that most of us are starting the run!
In choosing the winner, we'll weigh overall wins higher than age group wins, but we'll also factor in consistency (i.e., the more winning performances the better), race difficulty (i.e., age group win at Wildflower is more impressive than an age group win at the Bud Light reverse super-sprint triathlon in Rancho Cucamonga.).
Kim Nakamaru, Short Course female
Lynne Fiedler, Long Course female
Brad Austin, Long Course male
Dillon Nobbs, Jr. Elite Outstanding Performance
Eric Burnett, Non-traditional Outstanding Performance
Stella Tong, Single-sport Outstanding Performance
Our sincere appreciation to the following members who contributed to the workings of LA Tri Club in a consistent or critical way in 2013... we say THANK YOU to the Training leaders, Pit Crew team, Social Committee, and more... It's difficult to keep track of everyone, since we have so many members generous with their time and energy. Thank you to all those who pitched in to make 2013 another outstanding year for our club.
Abby Megginson
Adrian Valdivieso
Amy Berkin-Chavez
Amy Rappaport
Andy Lynch
Anneka Sakovich - Social Committee Mgr
Anthony So
Ashley Kirsininkas
Asya Zikranova
Azriel Aharon
Bill Lockton - Email, Calendar & Race Results Mgr
Brian Morri
Carol Reynes
Carol Roda
Catherine Griffin
Chris Rosien
Cynthia Xu
David Levine
Deb Carabet
Debbie Sullivan
Detra Jones - Race Programs Mgr
Ellen Demsky
Emily Cohen - Calendar Mgr
Fory Horio
Gail Gottfried
Glenn Mantel
Holger Beckmann
Ian Israel Christopher
Jackie Yukawa
Jamie Silber
Janice Loughman
Jennifer Kramer - Newbie Mgr
Jessica Bashaw
Jessica Flores
Karen Hallsman
Kelley O'Neill Lin
Kelly Rockwell - Pit Crew Mgr
Konrad Ribeiro - Newbie Mgr
Laurie King
Linda Baltes Mansolillo
Lisa Cheney-Miali
Lisa Winger
Lizzie Brenkus
Lou Briones
Marc Geraldez
Melanie Webber
Michael Andrulis
Mo Geller
Nancy Johnston
Niecia Staggs
Peter Castro
Ray Eastwood
Robert Pennington
Roberta Silverman
Ron Sluyter
Salvador Mutuc
Sharon McNary
Sharon Wong
Sherry Winston
Stella Tong - TriCHICKS Mgr
Stephen Harris
Steve Herbert
Susan Trabue
Thom Richmond
Tim Bomba
Tina Sathoff - Social Committee Mgr
Vanessa Pineda
Warren Selko
Will Robinson - Pit Crew Mgr
William Hurst
Yan Zhang