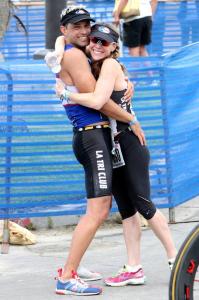 Hi. We're Kramer and Konrad. We're the LA Tri Club "Newbie Advisors." Not only that, we're the only Newbie Advisors the club has ever had. In fact, we're the first Newbie Advisors the club has ever had. Because we invented the position so that we could be on the board. Um. Trying again: "Because we love newbies!" 

Kramer has been in the club since 2006 and Konrad, since 2001. We were newbs once, too, and we remember how exhilarating but sometimes intimidating LA Tri Club can be. So we figured we would help newbies and newbies-at-heart get the most out of this great club. 
So we figured we'd make a list.
People love lists. And people love triathlon. And we love newbies. So we figured what better premise for an article than a list specifically for newbie triathletes. 
But first...
What is a newbie? We get asked that a lot. Does it mean...
* Someone who is new to endurance athletics? Yes
* Someone who has done athletics but is new to triathlon? Yes
* Someone who is an accomplished athlete but new to LATC? Yes
* Someone who isn't quite sure how they got to this website or what a triathlon is and is completely confused but also strangely intrigued? Most definitely.
So unless you are a veteran triathlete who has been in the Club for years, this article is for you. And if you are, you'll probably still learn something. We're just that good.
With that, our Top 10 things every newbie should know as they fall in love with the wonderful, addictive, sometime maddeing world of triathlon. Right to it...
10. Comfort first, speed later - There's no value in buying something (wetsuit, shoes, bike, helmet, etc.) that is supposed to be "fast" if it doesn't fit comfortably. Nothing is "fast." You are fast (or perhaps slow.) So make sure you're comfortable. 
9. Yes, bikes cost that much - But no, you don't need to pay $10,000 for a bike. Gone are the days of the $300 Schwinn Varsity. Sorry. Get a good bike that fits, is durable, and that you can do most of the basic maintenance on and you'll be fine. There are a number of highly capable, certified bike fitters who work with the club. Hit up your NewbIe Advisors for some recos!
8. Wearing tall compression socks to the mall looks ridiculous. Just sayin'.
7. Rest is as important as working out - You do NOT get stronger during the workout! You break down during the workout. You get stronger during recovery. Rest is as important as working out so get to bed early and get more sleep.
6. It's the people - If you do all of your workouts solo, skip all the social activities, show up and leave to races without talking to anyone...you are probably missing out on the best part of triathlon. 
5. It's a 3-mile training run...you can leave the fuel belt with half dozen gel packetsl, two water bottles, and salt tabs at home!
4. Injuries - They happen. Rest. Get to a PT. Go to a doctor. Stop working out and solve it. No one is particularly impressed when you continue to train, end up requiring surgery, and are out for months. Zero bonus points for martyrs.
3. Know how to fix a flat - Period. Not sure how? This video shows how you can do it in less than 2 mins. http://youtu.be/VeeOhkug0yg
2. Be an ambassador - whenever you are on the road, at the pool or in the ocean, you have a chance to be a representative for your club and your sport. Help out when someone has a mechanical. Lend someone food when they are bonking. Stop and offer directions. Whatever you do will be repaid in spades. The tri universe works like that.
1. Have fun - Very few of us are getting paid to do this. If it feels like work, you're doing it wrong. :^)