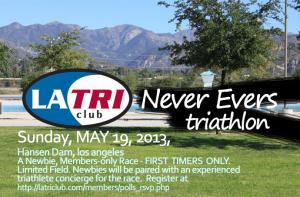 LA Tri Club announces the NEVER EVERS Triathlon. This triathlon is for LA Tri Club members only and only for those who have never done a triathlon before. The LATC Never-Ever Triathlon will be held on May 19th on a course hand picked for the first timer and each participant will be paired with a veteran LA Tri Club member to serve as a mentor for our Never Ever participants. 
The location is Hansen Dam Aquatic Center (in Los Angeles, NE corner of San Fernando Valley, where 118 meets the 210). The race distance is 300m-1 loop swim, 10k-3 loop bike and 2.5k-3 loop run (in imperial that's 328yd swim, 6mi bike, 1.5mi run). The swim takes place in the 4th largest swimming pool in North American. The City calls it a "swimming lake" and for good reason, this is chlorinated "lake" is a pool 150 yards long, 40 yards wide, with tapered sides and only 5 feet at the deepest point. It will provide the calmest, clearest, safest swim imaginable! The bike takes place inside the Hansen Dam Park on a closed road and, other than one small bump to manage each lap, it's a very flat course. The run is pretty flat too and mixes in trail, grass and a bit of side walk/parking lot. The multi lap format allows friends and family members to see each participant every few minute for a chance to cheer. The day ends with a picnic in the park served by a gourmet food truck.
To register for the LA Tri Club Never-Ever Event, visit our RSVP page and grab your $55 entry. This event is limited to the first 40 that sign up so don't delay.