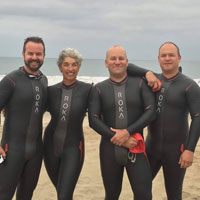 Ocean 101 Coaches
Ocean 101 Coaches
This email address is being protected from spambots. You need JavaScript enabled to view it.
The Ocean 101 coaches Max Miller, Sherry Winston, Brian Morri and Chris Rosien, left to right, are amazing specimens. Not only do they share a common desire to take the fear out of ocean swimming, but they are also truly twisted in every sense of the phrase.
Brian practically grew up in the water playing polo. He went on to Ironman status and has coached the 101 for 8+ years. He also likes warm nights, long walks on the beach and Cold Play. He is the definition of Renaissance Man… assuming that definition includes tights.
Chris, who looks like Brian but is much funnier in a quiet sort of way, has been coaching the Ocean 101 for over 8 years. He has raced triathlon at nearly every distance including Xterra Worlds and coached charity athletes. He likes sweet company and sour beer and is insatiable, dare I say…I mean, dare you say!
Sherry started her swim career swimming AAU age group back in the era of Mark Spitz. Having completed the Catalina Channel crossing the the Manhattan Island Marathon Swim race with the Just Keep Swimming relay team, she can be found swimming with the dolphins in the Santa Monica Bay.
Max has been coaching the Ocean 101 for over 5 years. A 2x Ironman finisher, including the infamous IM LT, he has previously coached the Children's Hospital triathlon team and individual athletes. Don't let the Apple Watch fool you as he is a serious competitor. He also enjoys a good metaphysical debate should you have the time and chops to throw down!
These qualities are just the right stuff to rid newbies of ocean fear. These fellows work together perfectly to encourage your understanding, respect and ultimate love of ocean swimming!