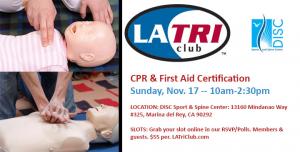 Athletes - Get CPR & First Aid Certified!! Open for Members + Guests. Please RSVP in our rsvp/polls. 
DAY: Sunday, Nov. 17
TIME: 10am. Class is 4-hours with breaks, so allow for 10am-2:30pm at least.
COST: $55 per person.
LOCATION: DISC Sport & Spine Center in Marina del Rey at 13160 Mindanao Way #325 Marina del Rey, California 90292.
LUNCH: Bring snacks/lunch for yourself. Breaks will not be long enough to leave building.
CERTIFICATION COVERS: 
--Adult, Child, and Infant CPR. 
--Choking Procedures (Heimlich Maneuver) 
--Prudent Heart Living 
--Recognizing and treating Heart Attacks, Strokes, and Seizures. 
--Pediatric Basic Life Support (PBLS) 
--Standard First-Aid. 
--Risk Factors for Heart Disease, Heart Attack, and Stroke. 
--Emergency Response Training 
--Basic Life Support for Healthcare Providers (BLS-C) 

Please let me know if you have any questions. liz@latriclub.com 

---