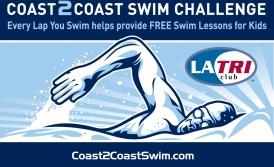 June 25th, 2013
Los Angeles, CA — June 25, 2013 — One with the Water®, a non-profit swim school dedicated to teaching life-changing swimming skills to kids and adults — many of them with disabilities or special needs — was honoured for its mission and achievements this June with a generous grant from the Los Angeles Triathlon Club earmarked for 32 special-needs students and at-risk youth. The grant will cover a complete program of small-group swim lessons, taking each child from no water experience to basic water safety and swimming ability — all in about four hours, or eight sessions at the Culver City Municipal Plunge.
The 2,000 member, thirteen-year-old LA Tri Club has recently expanded its focus to include philanthropy, founding the Coast2Coast Swim Challenge to help raise money for under-served and at-risk youth to learn basic water skills that can prevent tragic incidents of childhood drowning. "The LA TRI Club has made an impact on kids all over the southland," says LA TRI Club board member Larry Turkheimer. "Now, once again, we have stepped forward to help an organization have the ability to give kids the opportunity to swim, exercise, and most importantly, feel accomplished."
Turkheimer was inspired to donate to One with the Water after seeing the benefits made from last year's Coast2Coast Swim Challenge proceeds. "I was approached by Coach Kenneth Rippetoe of One with the Water to see if the LA TRI Club and Coast2Coast Swim Challenge would be interested in supporting their programs. Last year we helped 20 needy kids learn to swim through One with the Water. This year, One with the Water has partnered with CoachArt, a non-profit offering free lessons in the arts and athletics to patients ages 6-18 living with chronic illnesses such as Arthritis, Cancer, Cystic Fibrosis, Diabetes, HIV/AIDS, Sickle Cell Disease and severe Asthma. Siblings of patients are also included in the program."
Grants and donations to One with the Water pay exclusively for pool space, insurance, and instruction for kids and families with limited financial means. Especially during the nation's budget crisis, many schools lack the financial resources, personnel and facilities to provide athletic programs or physical therapy for children with special needs. One with the Water aims to fill that need, with specially-trained instructors and a nimble, low-overhead, non-profit model of operation.
One with the Water offers competitive swim training and year-round swim instruction for children and adults with a wide variety of skill levels, from total beginner to competitive athlete. In addition to their national-level competitive swimming skills, One with the Water's instructors are trained to work with children and adults diagnosed with autism, Asperger's, ADD, ADHD, sensory integration, anxiety, Down and CHARGE syndrome, auditory processing disorders and dyslexiaand others. Founder and Head Coach Kenneth Rippetoe, certified by the American Swimming Coach Association Disability Level 3, was featured on the Sundance Channel's documentary program 'Push Girls', working with paraplegic swimmer Mia Schaikewitz.
Since its founding, One with the Water has given out over $20,000 in scholarships to needy students and changed the lives of 400 swimmers in total. One father — whose son is on the Autism Spectrum — reported that his son "really responded to [head Coach Kenneth Rippetoe], and looks forward to his class more than anything else right now. After the first class, he suddenly looked forward to and enjoyed swimming, as opposed to dreading it. He made huge strides, the biggest he has ever made, working with [One with the Water]."
Tax-deductible donations to the "Pay-It-Forward" scholarship program of One with the Water, a 501(c)(3), can be made at the organization's website: OneWithTheWater.org/donate.aspx.