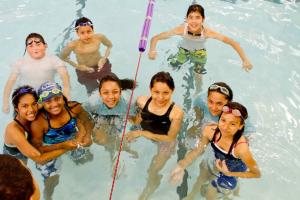 Make a difference in a child's life and enjoy a great day at the pool at the second annual Coast 2 Coast Swim Challenge (C2C) on May 20 at the Culver City Plunge. The C2C is the LA Tri Club's signature charity event that unites athletes from across Southern California to collectively swim the distance between LA and NYC in a single day, in a single pool while raising money to fund free swim lessons for under-served kids in our community.
Swim with us the morning of May 20th and you'll witness the impact of the C2C firsthand.
Join Olympic gold medalist Lenny Krayzelburg at the C2C
100% of the proceeds from the C2C pay for swim lessons aimed at reducing child-drowning accidents in LA. Did you know that drowning is the number one cause of death among children 14 years and younger in California and that LA County has the highest number of near-drowning accidents of any county in the state?
Students from Bethune Middle School in South LA who learned how to swim thanks to the C2C will "swim it forward" to help other kids learn how to become water safe. Joining this group of newbie swimmers in the pool will be four-time Olympic gold medal winner Lenny Krayzelburg! In 2011, the C2C provided the Lenny Krayzelburg Foundation with the funds to provide free instruction at Bethune and Carver Elementary in Compton. With your help, we can grow the swim programs at these schools in 2012.
Everyone's a winner at the C2C. It doesn't matter how fast you are or how many laps you swim, everyone who participates for the C2C is part of a winning campaign that last year raised $21,000 and taught 500 kids how to swim and be safe in the water. As thanks for your participation, you can take advantage of free coached workouts with Tower 26, Gerry Rodrigues and other notable coaches who'll be on deck throughout the day. After you finish your laps, you'll be treated to a free massage from Evolution PT or LA Sports Massage and can refuel with beverages and snacks from ONE Coconut Water, Jamba Juice, PowerBar and more.
Those who participated in the inaugural C2C know how much fun it is to take over the entire Culver City Plunge complete with music and socializing with LATC friends on deck. Thanks to presenting sponsors Toyota and Houlihan Lokey, this year's C2C will be even bigger and better!