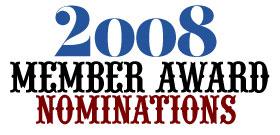 Each year the LA Tri Club hosts a year-end party to celebrate the accomplishments of our members from the most recent triathlon season. That, plus it's just another excuse to get together with our LATC friends for dinner, dancing, and fun and celebrate the season! This was another great year for LATC as we captured the USAT's Club National Championship in Las Vegas at the Pumpkinman Triathlon. Don't get left out of this special occasion.
Awards are presented to members either for their contributions to the LATC or for their "outstanding" personal accomplishments in the sport. There are 11 awards in total - some serious, and some not-so-serious.
The Advisory Board is soliciting nominations from members and would like your input by completing the following survey. Anything that happened this calendar year is fair game - so let the nomination process begin.
For each award, the Advisory Board will select the top nominations and the winner. The winners and final nominees will be read at the YEP (Year End Party) - and the winners presented with a valuable award.
See down for our HISTORY and CLICK HERE TO NOMINATE!
2008 LA Tri Club Board of Advisors:
Paul Hekimian, Liz Oakes, Larry Turkheimer, Ian Murray, Ray Barrios, Tina & Mo Geller, Gerardo Barrios and Lawrence Fong
MEMBER OF THE YEAR
The LA Tri Club is known as the largest, best and coolest triathlon club in the world. And we have the members to prove it. Think about the person that absolutely says "I am the LA Tri Club." They come to every event, always "fly the colors", and races to their best ability. You don't need to be a winner, just a person who loves the tri club and shows that first and foremost.
2007 Renata D'Angelo
2006 Liz Kollar
2005 Tim Bomba
2004 Liz Oakes
2003 Ken Carrington
2002 Jason Berkowitz
2001 Pat Abe
JOHN BOLAND SPIRIT AWARD: This award is honor of John Boland, a member of the LA Tri Club who tragically perished while competing at the 2002 Ironman Utah. The Spirit Award will go to the person who, like John, has exhibited the most enthusiasm and dedication to the Club, the members, and the sport during the year.
2007 Stella Tong
2006 Heather Richards
2005 Konrad Ribeiro
2004 Matt Miller
2003 Tracy Luebbers
2002 Julie Silber
2001 Matt Miller
VOLUNTEER OF THE YEAR: This individual who says I want to help. I want to be involved. You don't have to volunteer at every event (although it might help), but you want to help the club be successful. Maybe you race every event and still are there to hand out the race packets. Maybe you come to every club meeting and instead of just attending you get there early to help set up. To win this one you have to put the club ahead of your own stuff (or at least let the club members think so).
2007 Tim Bomba
2006 Renata D'Angelo
2005 Julie Miller
2004 Rosalind Jarrett
2003 Julie Talbert
TRI NIGHTMARE: This award makes the hair on the back of your neck stand tall. It could be your bike falling into the water prior to Escape from Alcatraz. It could be arriving at your first race set and ready to go, only to realize that you are a week late for the event. Have you or your training buddy had a horrible, terrible experience at a triathlon? Then you want this award. At least if you lived the nightmare, you might as well earn an award for it.
2007 Aaron Borough (hit by a car at mile 24 at Kona)
2006 Alan Morelli
2005 Samantha Gross (car, bike, gear stolen before LA Tri)
2004 Neva Day (hit by car the day before Kona)
2003 Evan Bartelheim
2002 Raoul van Kirk (Bonelli Crash)
2001 Ken Shishido (Topanga Crash)
NEWBIE OF THE YEAR: For those of you new to triathlon, let me explain to you what a Newbie is. Is this your first year in the LA Tri Club? Is this your first year doing triathlon? Then you are a Newbie. Next season you are not a Newbie. Got it? Anyway, did you or some Newbie you know have an awesome, terrific, marvelous year? Then you are the Newbie of the Year.
2007 Carly Chamberlin
2006 Steve Herbert
2005 "Riptide" Ray Barrios
2004 Eric Davis
2003 Erika Aklufi
SPEEDSTER AWARDS: The Speedster awards acknowledges the LA Tri Clubbers who routinely finished well ahead of the pack in Sprint, Olympic and Non-Traditional or Single Sport Distance races. You know, the person who is finishing around the same time that most of us are starting the run!
In choosing the winner, we'll weigh overall wins higher than age group wins, but we'll also factor in consistency (i.e., the more winning performances the better), race difficulty (i.e., age group win at Wildflower is more impressive than an age group win at the Bud Light reverse super-sprint triathlon in San Bernardino.).
SHORT COURSE - MALE
2007 Justin Park
2006 Carlos Vizcarra
SHORT COURSE - FEMALE
2007 Nina Greenberg
2006 Rachel Dunbabin
LONG COURSE - MALE
2007 Oliver Martin
2006 Holger Beckman
LONG COURSE - FEMALE
2007 Rikako Takei
2006 Claudia Campos
NON TRADITIONAL MULTISPORT
2007 Evan Hyde
2006 Kalyn English
SINGLE SPORT OUTSTANDING PERFORMANCE
2007 Rich Reffner-Cycle, Bill Lockton-Run, Loren Uscliowski-Swim
2006 Babak Azad