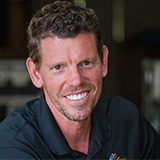 Jeff Gust
Ironman Training/Mucho Gusto Ride Leader
This email address is being protected from spambots. You need JavaScript enabled to view it.
Jeffrey Gust has had the honor of working for the Milken Family Foundation since 1993 as an Audio Tech/Videographer, documenting the Milken Family Foundation's legacy as philanthropists in almost every aspect of life, with an emphasis on education and medical research. Working alongside Michael and Lowell Milken has had a tremendous influence in shaping Jeff's beliefs and values in the importance of helping others and giving back to the community.
Jeff joined LA Tri Club in 2010 and to this day has been committed to making it not only one of the best tri clubs in Los Angeles, but in the entire country. And it shows. Jeff currently sits on the Leadership Committee and is the 140.6 advisor & leader of the "Mucho Gusto Ride", an event he brought to LATC in 2015.
Jeff began racing mountain bikes in 2000 and has participated in numerous 24-hour adventure races, three Ironmans- his first triathlon ever being the Ironman Arizona in November 2011- and he's committed to at least two more full Ironman distance races in 2015.
Off-season, you can find Jeff traveling the world for epic ski trips or at local resorts on double black diamonds! With a name like Gust, it is not surprising Jeff lives life with "Gusto". He has tireless energy for living life to its fullest, making sure everyone around him joins in his enthusiasm for good times. Jeff currently lives with his girlfriend Lisa Dordick, their dog McCoy and cat Bagheera.
Jeff has found his family with the LA Tri Club community and has created many friendships and memories; he hopes to help all members feel welcome and happy here at LATC. When you see Jeff racing, you will definitely find him flying his LATC red, white and blue gear, and always with that huge "Gusto" smile that you can't miss!