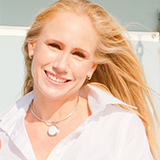 Anneka Lopopolo
Social Committee Manager
This email address is being protected from spambots. You need JavaScript enabled to view it.
Anneka has been a mainstay within the triathlon community for many years. In 2003 she joined LA Tri Club. Everyone has known Anneka as not only a racing standout and outstanding swimmer, but also through her work in the industry. Previously the Operations Director for Renegade Racing for 7 years and now a freelance race consultant and organizer, she orchestrates many of the most beloved events in and around Southern California.
Anneka's favorite open water races are the Dwight Crum Pier to Pier, Waikiki Rough Water & La Jolla Rough Water Swims, and her favorite tri is the Santa Barbara Triathlon. Though she doesn't care much for runs, if she had to pick a favorite it would be Super Bowl Sunday 5/10k in Redondo Beach!
Born and raised on Saipan, a tropical island in the middle of the Pacific, Anneka has also lived in Hilo, HI, Santa Barbara, CA and Tokyo, Japan. Today South Bay is her home since moving back to California in 2003. Anneka, her husband Jerry, and daughter Coral reside in Manhattan Beach.
Anneka currently serves as the LATC Social Committee Manager.