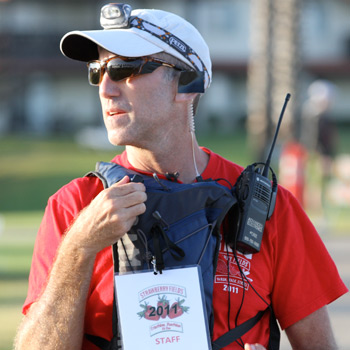 Jamie Silber
Strength and Conditioning Coach
This email address is being protected from spambots. You need JavaScript enabled to view it.
A founding member of the LA Tri Club, Jamie graduated from the University of San Diego in 1987 with a BA in Psychology and BS in Exercise Physiology. He is a USAT Level 2 Certified Triathlon Coach, Certified National Academy of Sports Medicine (NASM) and a CrossFit Level 1 Trainer. He was a long time business partner of Ian Murray with whom he co founded Triathletix Coaching which is now Triathlon Training Systems (TTS). Jamie was a co-producer and writer for the Triathlon Training Series DVDs and is currently working as full time triathlon coach and at CrossFit LA - School of Mastery. Jamie also co-founded the LA Triathlon Club and started the LA chapter of Team in Training for the sport of triathlon. Jamie was also the owner and race director of the Strawberry Fields Triathlon, Duathlon & 5K in Oxnard Shores, CA.
His athletic career includes the following performances: Two 2nd place finishes at the National Championships in both the Olympic and Sprint distance triathlons. Six time World Triathlon Championship qualifier and recently place 4th in his age group at the ITU World Triathlon Championships. And, Jamie is a 7 time-Ironman finisher, including the Ironman Hawaii World Championships.
Jamie's approach to fitness is all about mastery. How you move and breath is at the very core of fitness/health. Specializing in Running analysis, Jamie works with individuals on improving technique, strength and programming.